I've just finished my first week of designing at NewCity, and you'll be glad to know it's been awesome. I've been kept surprisingly busy for my first week, working up a style guide for their recently-released work on the VQR, and doing image processing as well as some actual web page design work for an exotic educational project the company is redesigning. That's been exciting as it involves looking at much more unusual things than the typical stock photos of men with cellphones, not to mention how educational it is – not just for the target audience, but for me as well – always a great perk with a project when you can learn new things about the world through design osmosis.
NewCity seems great so far, with its relaxed, comfortable work environment (leather armchairs in the kitchen, and bar counters in the office, and they actually encourage taking your work laptop over to sit more comfortably!), well-stocked snack pantry, weekly meeting/happy hour, emphasis on a good work/life balance, and lots of high-quality swag.
That hoodie is the One Ring of clothing … once I put it on, it is nigh impossible for me to take off, even to go to bed, because of how comfy it is. Also that sweet logo! And of course I am a fan of anything bright green and black, but the little finger bowl with its adorable handles is great for snacks or a cup of soup or just holding paper clips, and it has a lovely texture on the finish.
You can see this is not the cheap plastic pen kind of swag like most companies give out! Even that coaster is made out of some sort of squishy rubber, not your usual cardboard.
And then there are my awesome coworkers. I'm enjoying sitting next to Jenny, one of the young front-end developers with a fun nerdy sense of humor and a great laugh. The two designers who were here this week (the Creative Director was out of town) have also been pleasant and encouraging, which has made me feel comfortable about becoming part of their team. Did I mention NewCity is more than 50% women? It's amazing.
All the departments are heavily staffed by women who are clearly good at their varied fields – but there is no lack of nerdiness. It's so wonderful (and rare, in the technology industry) to work in an environment that is welcoming to women. I've spent most of my life hanging out with pretty hardcore geeks, and I think I've gotten pretty used to sexist, patronizing, and mildly-offensive topics, language, and jokes – it will be a huge relief to work in a place where that is not the norm.
Some of the team went out to dinner Friday night, which was fun – I got to try shrimp tacos, quite good, and argue with the guys about Star Trek vs Star Wars, which is always a good time.
I was really amazed by how enthusiastic they were too about making sure I had help moving my furniture out of my moving pod Saturday. Upon opening the door, I was presented with a little basket of wine and cheese by Kari, and had an hour or two of help from her and Sara and the two guys schlepping stuff (even a couple of my neighbors joined in) and setting up furniture. I have no idea how I would have done it without the help, so I'm very very grateful.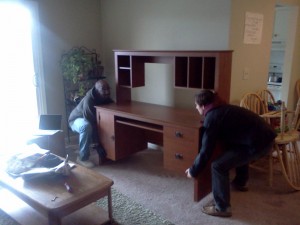 Anthony and Lee helped move my new desk in. Lee was there from start to finish, helping put things together and doing lots of heavy lifting! Anthony is a riot, as you'd expect from someone who's a standup comedian, and puts up with a lot of ribbing from the entire office with good spirit. He's very engaging and has been making me feel at home right from the start. So everybody has been making me feel welcome to the team.
It's good to have all my stuff back in my apartment and to be able to sit on the futon and admire my plants and do my knitting while watching Netflix… I'm looking forward to meeting more of my coworkers next week when they're back from their on-site client visit. Soon I will probably have to start cooking actual meals though, now that I have my kitchen gear again…