I returned to Rochester for two days ("I'll be here two days… / Then I will be gone…") for a reunion with good friends, a visit with the photo group, yarn adventures with Marissa, a sugar maple festival, a church service, and two showings of FirstLight Players' Death Takes A Holiday. It was a whirlwind trip but very excellent and much needed now that I've been away for two months.
I did get in in time for dinner and the Friday night opening of Death Takes A Holiday: the musical, but let me save my comments on that for Saturday.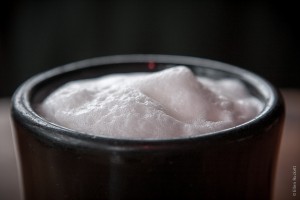 The adventures of the weekend really started with an early arrival at the Boulder Coffee photo group Saturday morning, where I caught up with the managing barista who has always been there when I go in, and read my Economist until the other lady photographer showed up. It was nice to get to know both her and the barista better, although the whole visit to Boulder reminded me of what familiar routines I am losing by no longer living in the area. It was nice to hear the photographers' "war stories" during my visit and to see some great work from them.
(instagram doesn't like to show pictures on my blog, but clicking through should work)
After that it was off to the yarn store in East Rochester with Marissa for adventures in wool. We got a good haul and then were of for a bite at Panera before traveling on to the Helmer Nature Center for their Maple Sugaring Festival, an open house with tree-tapping tours, maple sugar cooking demonstrations (and tastings!) fresh-baked cornbread, "maple ice" (hot maple syrup drizzled into snow), and plenty of animals in the animal room.
Tyler gave us a private tree-tapping tour as we got there too late for his last one and he was just finishing up. It was cool to try maple sap right out of the tree and taste the trace of sweetness that would be boiled into maple syrup later!
Then in the evening it was off to dinner before the show – which was great! I think a lot of people were glad to see a new show, not one of the regular options of community theater. The players won several awards from the Theater Association of New York State afterwards, for singing and acting ability – very exciting at the first show! It was really amazing to have been so close with the show, doing their programs and publicity art, and attending rehearsals both as ensemble member and photographer – but also to get to simply watch and enjoy the show as an audience member. I enjoyed it so much more knowing the struggles and thoughts that went into it – the hours listening to my friends describe thoughts about their characters and working through motivations. I was so proud of everyone, it was amazing. It felt really intimate too, to notice missed entrances and signs between cast members – they did such a great job of covering, I don't think anyone not deep in the show would have noticed, and I was proud to be able to witness that hard work.
Pastor Johanna has a nice write up on her blog too.
It meant a lot to me to be greeted so enthusiastically upon my surprise arrival – I even got to tag along afterwards with the cast for late-night drinks in the snow. It all felt very glamorous and exclusive! I was also incredibly excited to see my work in print (or, well, photocopy):
I don't know if the people in the show realized that this was not just a program banged out in MS Word and sent off to Kinko's at the last minute – I put all my knowledge from editing German magazines during my internship to use. Everything from hair spaces around the slashes, to checking the letterspacing and rag of paragraphs (and rechecking, when they asked for everything to be justified), checking for smart quotes and proof-reading all the cast bios… I really enjoyed typesetting the program even if I doubt anybody who saw it actually noticed the difference from any other community theater program. My only wish was that I could have been singing in the rehearsals instead of sitting in my Blacksburg apartment fine-tooth-combing over the program for hours!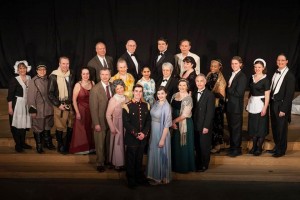 Sunday rounded out the weekend with a nice little visit to the church service and then lunch with several friends before going off to the airport for a happily uneventful trip back to Blacksburg – I am not sure I can say "back home" when it comes to leaving Rochester, yet, and it was hard to get my head back in the game after such a wonderful whirlwind trip.