I've found a real interest in acrylics since I got inspired at this past year's Park Ave fest in Rochester. Since I found out about mediums and mixers for professional acrylics, I've been doodling around with them occasionally. Lately I've been trying to do more, get better in a slightly more concerted fashion, trying to deal with the transition here.
I'll start with one I did for my friend Ariana in the fall. I just sort of put paint on things randomly and try to gain enough XP to level up, so this one evolved over a few coats of paint. I also really like putting hard pastel or marker over the paint, but it hasn't been showing up too well and then I definitely have to spray the painting, which means choosing between my super-glossy finish and my matte finish – a tough choice.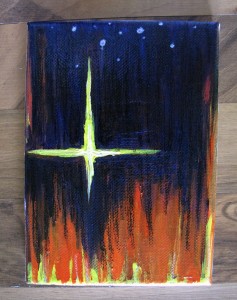 There have been a few more projects in the months since I've moved down here. I started with painting a couple of flowerpots for my herbs, and after I found practice canvas panel packs for much cheaper than full canvases, I started doing those. They do lose the benefit of regular canvases though, which is that you can't just hang the wood stretcher bar over a nail, you have to frame the canvas. … My apartment still looks a bit like a college apartment in terms of its lack of framed art.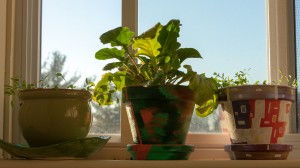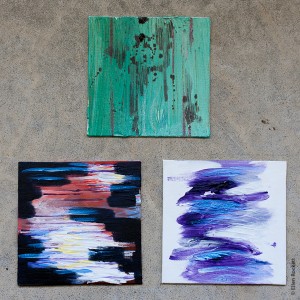 They were perhaps not super-successful, but I kind of like that purple one. The one with the big black brush strokes got me kind of inspired to do more sky-and-water tests though. These I think are more successful.


This last one occurred to me while I was lying awake in the middle of the night. It's less ominous than I pictured in my head, which is probably good. I had a couple more with a somewhat more landed aspect.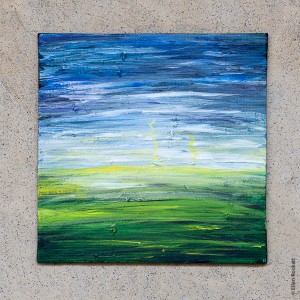 Something inspired by the view from my apartment: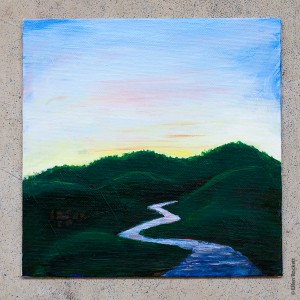 Check out my Pinterest of work I've found that I like; you might see some commonalities. And at some point I'll probably have more paintings to show… I still have a number of blank practice panels in the stack! Let me know what you think. :)