The trip to Rochester was quite an operation, so I'll break it up into two posts. There were many photos taken. There was a visit to the Jazz Fest, where they play very modern jazz, accompanied by much people-watching and some discussion of racial issues around the Jazz Fest and white people appropriating jazz and things. New York is actually a very segregated state, and you can really see it in Rochester. I also took a photo of a view between some buildings, which I thought made a cool tiled pattern with all their lines: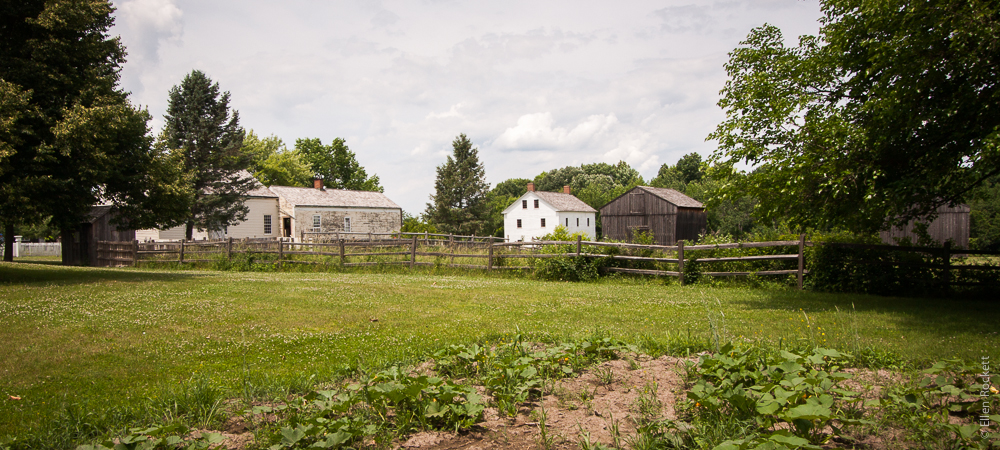 Saturday involved a visit to the Genesee Country Village & Museum south of Rochester. It's a lovely little living history site, and the day hosted a Celtic festival, a Civil War hot air balloon, and a 19th century baseball game. Lunch with Tyler also involved Jim, the monkey organ grinder, serenading our picnic while families of children gathered around for an explanation of how it worked.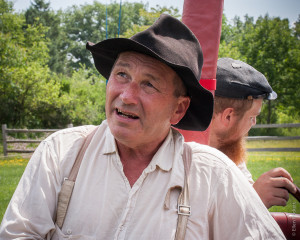 Apparently the bagpiper band was not very together in their playing, but it was nice to support them. And who really expects to hear quality music from a local bagpipe group? ;)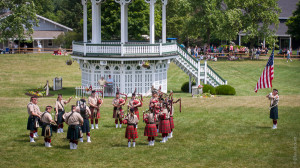 Jim likes explaining his organ to anyone who wants to know!
The baseball game was more fun than I expected, although we decided to have new adventures after the first couple of innings, to make sure we saw the stuff we wanted to before the village closed. Also it was really hot and sticky – traditional baseball weather, I suppose, but not very pleasant.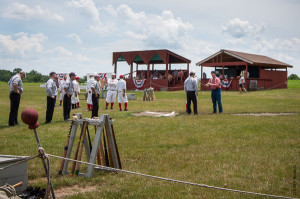 The baseball was really impressive as it is played with the old rules which involve no protective equipment, including gloves.
I did not take any photos of the potter's studio, although that was a big highlight of the day, getting to see old-fashioned pottery-making! After that we cooled off in the shade of the main green, watching kids playing old games and talking to Ruby, the Village photographer. I tried to get some photos of Tyler on stilts, but he was moving too fast!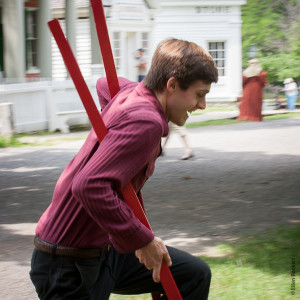 Though the kids playing the bucket race were even faster.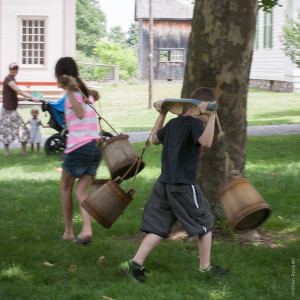 Ruby got a few photos of us playing.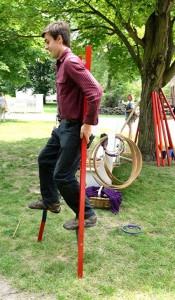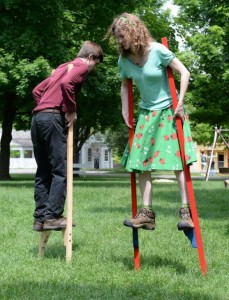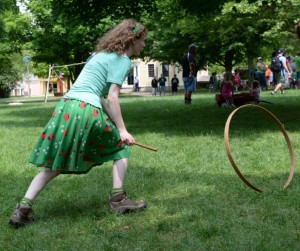 It was a good day of old-fashioned American summer fun.