It's been a little longer than I intended, but some freelance resurfaced and has been taking up a lot of my evenings. When last I left you, I had just arrived in Newport News for a visit with Chelsey on the 4th of July evening. The next day we went to nearby Colonial Williamsburg, and I took enough photos that I will have to break them up into multiple posts. There have been a lot of photos this summer.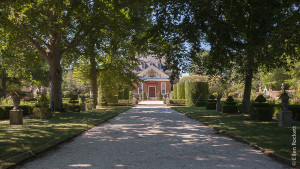 We started out with the first tour of the day of the Governor's Mansion, which was pretty awesome although I think the tour guide may have been new (the whole day came across as a bit of a slow or off day for the interpreters, perhaps because it was July 5th). In particular, the armory of decorations was pretty cool – much of the front entryway and stairwell was hung with patterns of real swords and guns. It ended up reminding me rather of the Cilhar uniform described in the Raven Ring, which involves wearing all your weaponry as decoration worked into your fighting leathers.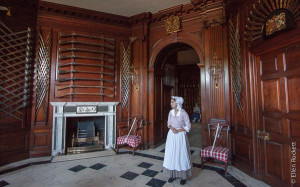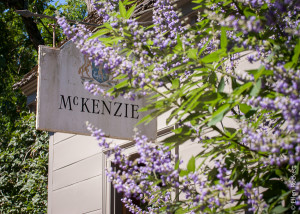 After a ladylike turn around the green, our next stop was an outdoor stage where a few guys were performing short exchanges from period-appropriate shows including Othello and a few obscure plays to illustrate the concepts of "Fops, Rogues, and Villains." We got there early and I was able to choose a seat which, though there were of course heads in the photos, was a good distance from the stage to capture their faces with my fixed 60mm lens (much better glass than my zoom kit lens).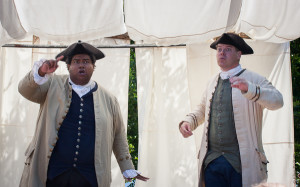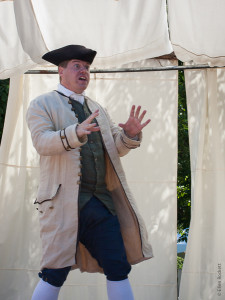 I'll have our Michael Cassio on the hip,
Abuse him to the Moor in the rank garb—
For I fear Cassio with my night-cap too—
Make the Moor thank me, love me and reward me.
For making him egregiously an ass
And practising upon his peace and quiet
Even to madness.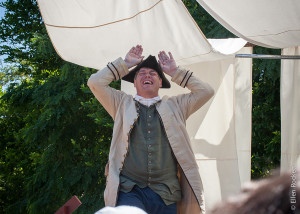 The long-haired guy in particular enjoyed hamming it up for the audience. One of the women near the front was a big fan of him and kept shouting "encore!" every time he made a particularly hammy flirtatious pose, and he dutifully would perform the line and the pose a second time. He did a good job of responding to other heckling and such as well, so it was a very fun time.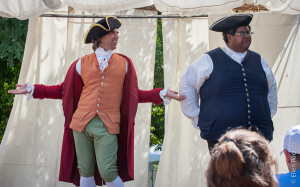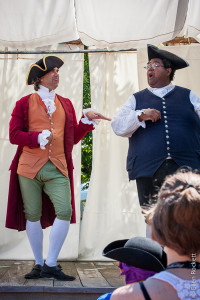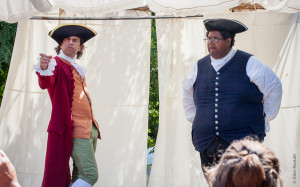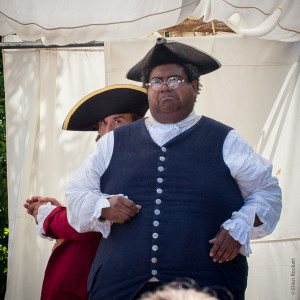 We had a lovely picnic lunch during which I got my white pants spectacularly grass-stained, and then investigated the open air market in search of fancy hats. Along the way, we found the 18th century iPad: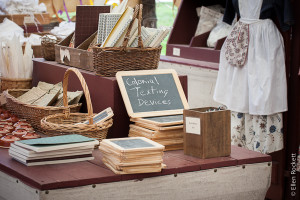 Hats were tried on.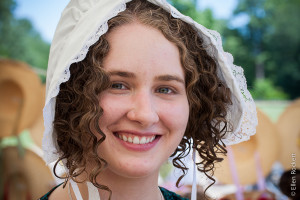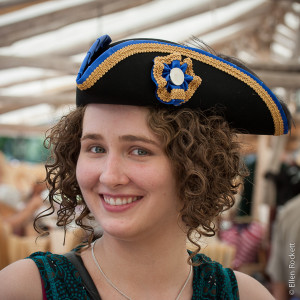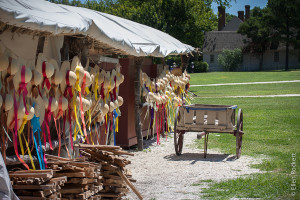 Chelsey looked pretty for me. Or at least did her hunting-Chels look.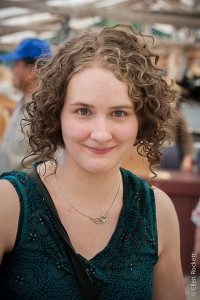 Next time, the youth marching band of Williamsburg!