I promise I have lots more photos coming soon, but the reason they have been delayed is that the freelance project I started back last year is up and running! You can see it at UUWellspring.com. Below is a screenshot for comparison with the old version:
Some key things stood out to me from talking to their coordinator at the start of the project and going over their needs and what sort of content they were going to have. In particular, she wanted to capture the type of spiritual joy captured in a photo of kids leaping in the summer sun. Sort of a typical stock photo, but with her description it became clear that she was looking for the fresh warm feeling of a perfect summer day, that clarity and happiness that comes from experiencing and reveling in nature. She wanted something that would be familiar to their existing base – so not too modernist or dynamic – but welcoming to a new young contingent as well. And it needed to not look too feminine. She also showed me a few pieces of art around the office that she liked.
After that, I did a bunch of research which led me in a pretty clear direction. I did some logo sketches, and after presenting the research and the logo and getting an enthusiastic go-ahead and some good feedback, created a couple of color palette options with text to explain the differences between them.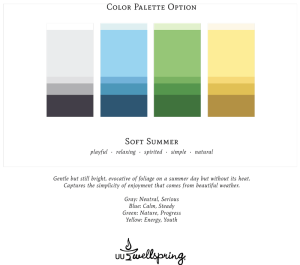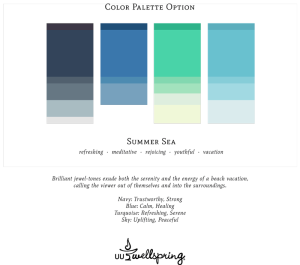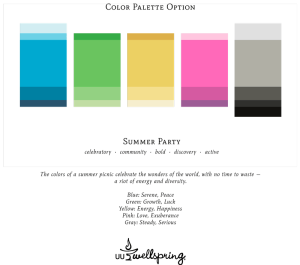 Also this doodle.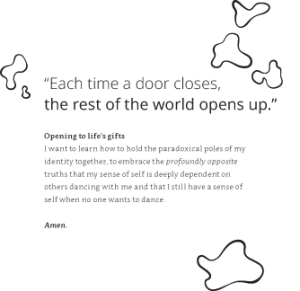 Although she was a great fan of the color palettes, Tina finally settled on the first one and I started on two mockups of design options in those colors.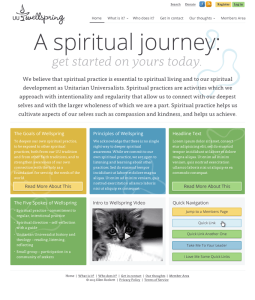 Really very little changed about the comp that was chosen other than the header watercolor. And from there it was a matter of setting up the WordPress theme and getting it skinned in the style they had chosen, getting the content from their team, and getting everything configured!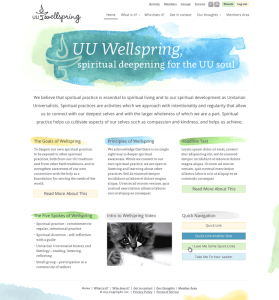 Of course, it was a bit more than that in practice, but thanks to some handy WordPress widgets and the magic of SASS I was able to put together the site pretty much just as I envisioned it!