I went down to Charleston to visit my brother for the weekend before Thanksgiving and watch large amounts of Agents of S.H.I.E.L.D. I got a lot of knitting done. We had a good visit with some tasty food, and the weather Saturday was really gorgeous, so we went for a walk around the park near the nuclear school where he's been doing training. I haven't really spent much time in the real South, so South Carolina was an interesting environment. We saw a number of military airplanes flying around.
It was quite warm for late November, considering all the snow up near my previous residence recently, so I enjoyed that a lot.
He warned me about watching out for the gators while I was taking photos of the lilypads – I wasn't quite sure I believed him. We did see a black snake that was a pretty good size. It was sunning itself next to the trail in the woods but disappeared as we approached. All in all it of course felt very Riven-like, even down to the little critters that scurry off the path as you near.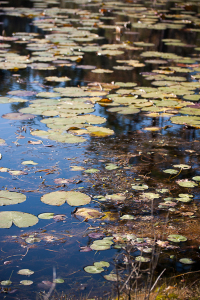 I also got a sense of what life might have been like for the dinosaurs.