I signed up this spring for a Unitarian Universalist media group on Facebook, for making assets to share our "good word." Being an actual designer, the couple of samples I shared apparently went over very well, and I was hired by the curator of the UUA WorshipWeb to make a set of outreach materials for General Assembly. This is a huge deal for me! I get pretty into being UU, and having my work seen by large numbers of other UUs is super exciting exposure. Freelancing for Rev. Erika Hewitt was a great experience as well, she made me feel so loved and appreciated as an artist! :)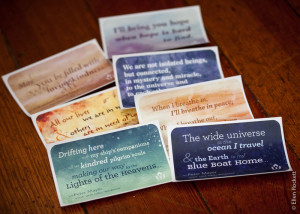 With the limited budget, we worked out plans for a set of seven banners for social media, and matching stickers to give out to ministers and others. We chose quotes from the hymnal that would be meaningful in the small format and address common UU wisdoms and spiritual yearnings, some of which were nominated by other people in the UU community.
From there, my process wasn't too organized, as it was meant to be art more than design. I was tapping back into my high school practices of typographic art and abstract backgrounds for this one. First I settled on a font and style for the attributions – Whitney Light, from Hoefler & Co. Whitney has a beautiful humanist warmth; traditional in tone while still presenting itself in a modern way. It strikes me as a "spiritual" font, in this combination. Why I chose it, I suppose. Hoefler & Co describes it as bridging the gap between editorial typefaces and signage typefaces, making it easy to read while also attractive in small doses. I knew that I wanted each sticker to have a very different look, but that they would have to be tied together as a set somehow. I did this by keeping the attribution and the UUA logo consistent across all seven.
Most of the quotes were from hymns I was already familiar with, but I reacquainted myself with all the quotes, thinking about the tone they set and any melody they might have. I painted down a color palette for each that seemed representative of the feeling and would provide enough differentiation. I picked out fonts that somehow felt "appropriate" for the quotes and color palettes. My idea with these, inspired by the first one, "I'll bring you hope…" was to think of them almost like e-cards – something you could send to a friend as encouragement. So I wanted them to have the right sense of brightness and calmness across the board – keeping them a set while still having them be completely different from one to the next. The colors were intended to complement (on some artistic level) the sentiment of the text. After that it was a lot of experimentation with a variety of great textural brushes I've found over the years, and blend modes. Gotta love those blend modes for creating art in Photoshop.

Even some of the abstract background layers look cool just by themselves.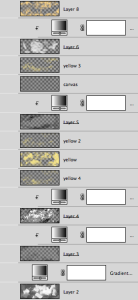 Okay, when I do art pieces I admit it – I get away from my usual OCD habits of layer naming. No one is going to be building websites out of these PSDs though…
You can grab the full sizes as well as Twitter and Facebook banners on my author page at the UUA. (!!!) We also got these printed as stickers from Moo to share with ministers and people at GA this week, though I suspect Rev. Erika's stash of them isn't going to last long…
I do wish I had a Cintiq again, all the same.