500+ photos from a folk festival over Labor Day weekend has really been slowing me down! Since I really didn't take too many photos on my trip to San Francisco, I'll just skip ahead to that and come back when I've finally culled and processed all the photos from the Fox Valley Folk Fest.
The flight was pretty spectacular. I split my time pretty evenly between reading The Hundred Thousand Kingdoms and pressing my nose to the window or to my phone trying to figure out where we were. I have no recollections of flying over the Rockies before – though I must have seen them from above sometime – so this was really incredible.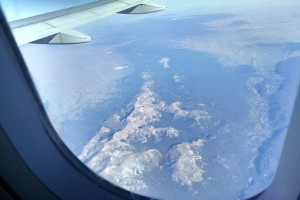 Looking down on Utah, I had the feeling that I could really see the eons of history that had rolled over the geography, in a way I haven't had before. We must have flown right over Yosemite too, though I was on the wrong side of the plane. All in all, the flight by itself was surprisingly exciting.
After some adventures to find the youth hostel in the National Historical Park, I went off in search of the art museum. Along the way, I saw the Golden Gate Bridge, of course, as it is kind of hard to miss, and got my first look at the ship that would be hosting the maritime music festival.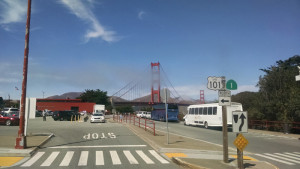 At the art museum, I admired the brushwork of many colonial portraits and puzzled over an entire room of enormous black dots that apparently had something to do with the Spanish Revolution. I have trouble keeping track of the family, but I believe I found a portrait of a relative as well as an ancestor-by-purchase, as Major General Stanley might describe him.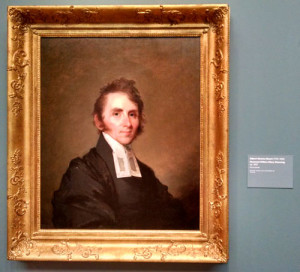 Friday I met up with a friend and explored the Exploratorium, which was very cool. The weather was surprisingly warm and sunny, I gather, so coffee outside the Ferry Terminal watching the birds in the water was wonderful. The goal of my visit to the Exploratorium (in addition to just enjoying it) was to get some inspiration for a sort of nebulous chamber or two in my "Spelunx 2" concept I've had for a while, which would theoretically build off of Spelunx by the same people who made Myst. At some point I will motivate myself to write about that, but not now. The toys/science concepts I've been having trouble with in my concepting of the game are mostly around waves/light/music, so seeing how the Exploratorium dealt with those was great.
One of my favorites was this thing, which worked on sort of the same principle as those common horse-running "zoopraxiscopes" that demonstrate how film works. They had a couple of guitar strings strung in front of a cylinder painted with black and white stripes. Spin the drum, pluck the string, and you can see the waves.
Friday night I went to a contra dance and had great fun, though felt a bit run off my feet after a long day. I got to dance with some lovely people, though sadly there are no pictures. The evening kind of put the Illinois dances to shame…
Saturday started the sea shanties. I got there early and explored the visitor's center and the pier, and even got to help in a demo for how a capstan shanty and a pump shanty would have been used. An NPS ranger seemed to be recording them, but I don't think they were posted on Youtube like I hoped.
There were some really awesome musicians. Salty Walt was the best, with really great harmony, though I really liked a song that one of the park rangers did – I think she may have written it herself – about how we are all links in the chain and must pass down the knowledge of sailing. There was also a really great limerick shanty, though trying to find a list of lyrics hasn't turned anything up yet. I suppose any limerick could probably fit in the song, that being the point.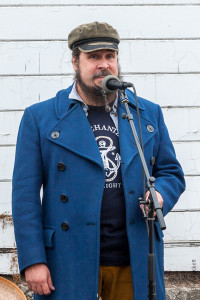 Salty Walt's songs were disappointingly clean, though he did provide one he had written, in which the sailors got their revenge upon the ladies on land who always use them so ill in traditional shanties.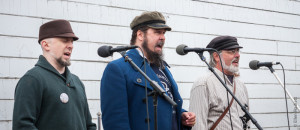 Holdstock & MacLeod reminded me of the crotchety pair of muppets, as they had been performing together at the festival for I think decades. They also were a bit spacey, which really gave them an authentic air of a pair of old sailors who had washed up outside a bar next to the pier.
I enjoyed their matching stripey shirts, especially since I had almost worn mine too. I didn't realize there was a really wonderful group called The Johnson Girls until the freeform closing sing, when I was blown away by their lovely harmonies, and they didn't even have all their members there. You can see them in the front here, along with Peter Kasin, famed NPS ranger and shantyman.
The closing show was great, although (or perhaps because) there was one singer who decided to sing ALL the verses from one shanty, and one of the others, realizing this, started gesturing behind his back as if with a cane to pull him off the stage. So often we think of musicians as such proficient and polished performers, it was very fun to see all these folky people just having a good time – sometimes at each other's expense.
Finally got to achieve my goal of singing sea shanties on a sailing ship! A few short months ago, I thought I would have to work very hard to find a place to do that and that it would be a long time before it ever happened.
After going to the contra dance the night before, I kept running into contra dancers all day! They are a friendly bunch. One of them was kind enough to take me out of the city to see redwoods Sunday afternoon. It was kind of an adventure to get the train down to the south end of the Bay and meet up, but eventually we got it worked out. The trees were certainly spectacular!