Okay, I have no real excuses for why it's been so long since I updated last. The best I can do is that I took about 500 photos at the Fox Valley Folk Fest over Labor Day weekend, and in feeling like I needed to cull and edit those before anything else, I kind of put a damper on my inclination to add anything to my blog.
But now I have finally gotten around to editing them! Tune in next month to see what excuses I find for not publishing more! It's been so long, I really don't remember what I was going to say about them – but I did have a great time at the festival. I really enjoyed all the performers so much.
First, I enjoyed the patches on this guitar case: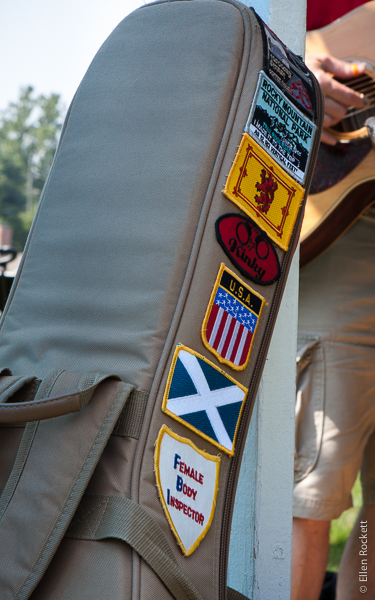 Then I enjoyed just how many guitars there were in evidence over the weekend: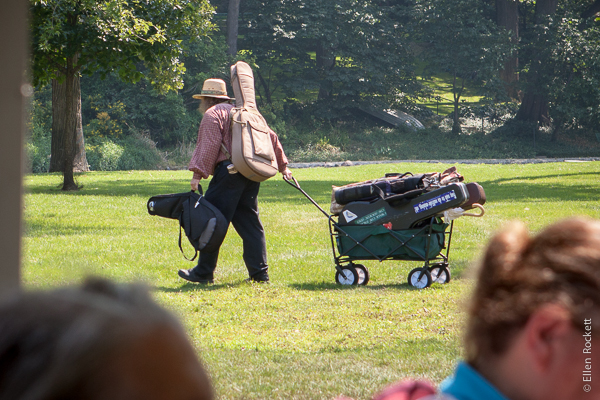 Off to a good start with Lee Murdock and Tom Kastle doing a variety of sea shanties together.
There was an open Shape Note sing – I loved the opportunity to try it genuinely for the first time, complete with the waving arms and fa-so-la-mi's. It's such an organic, earthy form of music; the complete opposite of the modern refined produced music we tend to consume these days.
As one of the participants said, "I'd travel hundreds of miles to sing shape note music, but I wouldn't cross the street to listen to it."
In the midst of all the "Social Justice Warrior" stuff on the internet, I really appreciated the folk fest having a session just for women and their songs. Seated viewer's left to right: Claudia Schmidt, Zoe Mulford, and Cosy Sheridan (plus that one dude who played bass for her). Their contributions of women's songs about women's issues definitely brought some tears to the crowd.
There was an informal jam band for the non-scheduled folk musicians to play at, I gather. They were supposed to be playing for an intro-to-contra dancing session, but the only people who showed up were this couple and their tinies. They proceeded to dance in the sunlight all by themselves.
There were a bunch of other fun sessions, including the sea shanty group that I was there to participate with. Also, Joe Crookston; Cosy Sheridan; Curtis & Loretta; and Zoe Mulford being joined in her singing of "Bold Riley."
I took way more pictures than this of Mustard's Retreat, but I'll spare you. They all look more or less the same as these anyway.
Mustard's Retreat has some great music. I heard them perform at the Rochester UU church a couple of years ago, and I think both times they did this song:
In case any of the musicians from my pictures are reading this, I still have more than 200 photos from the weekend, and I would be happy to send you full-size copies of any pictures with you in them. Just shoot me an email from the contact page!