In August, the work that I did on Pomona College's website went live. NewCity, where I worked at the time, has now featured a case study about it on their homepage, but it lacks my perspective as the primary designer, so I wanted to share some about my process.
Although the junior designer on the team, I was able to draw on my experience at Uni High School to create the winning style proposal.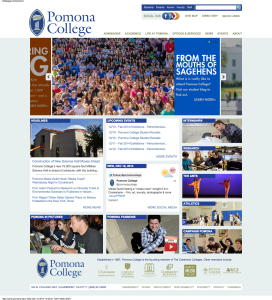 Like Uni, Pomona has a freewheeling, premier liberal arts school attitude and high expectations. In return, their answer to students' ideas is "Yes! How can we make it happen?" – which means they have clubs that play everything from Taiko drums to Quidditch – and as a result, their students are personally engaged in their own education.
Ranked #1 by Forbes (as well as doing spectacularly across the board), Pomona is a "West Coast Ivy," and their existing brand appearance played to the Ivy part. It looked stuffy and gilt by comparison to what NewCity's user research showed the campus was really like. Pomona wanted something fresh for their new website that would capture their real personality while retaining the existing logo and palette. (The repeated specific request from the client was to make sure it looked "California," and our whole design team was at a bit of a loss as to what California design would look like.)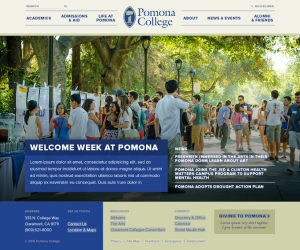 So I did some thinking about what I would design for my high school – I thought about all my favorite, sunniest memories of spectacular teachers who wanted me to grow up crazy and hungry for learning. And then I thought about how I'd represent that in a place where they literally are sunny and warm all the time. I did research into what the websites of other California campuses looked like (UCLA in particular struck a note for me).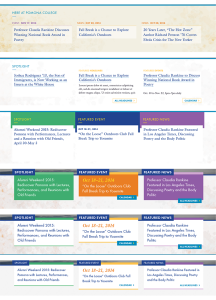 Unlike most schools, Pomona is well-endowed and thus didn't need as much focus on asking for donations as many. They also had large amounts of great lively photography for any aspect of campus life that could be desired. As a result, I was able to design a website that relied heavily on huge banner images that would bring the reader right onto the campus. The photography was rich and engaging and showed the texture of life – so I threw in a little digital detailing to keep the site feel as modern as the millennials applying. And even if they don't need the reminder to donate, I didn't think it could hurt my chances of approval if I threw a little one in at the bottom. Kills two with one stone, in fact – it reminds alumni to donate, and it gives the alumni a chance to tell prospective students why this school is worth it. I wanted something tropical about the website, too – as rainbow as the diverse students – which I brought out in the color palette.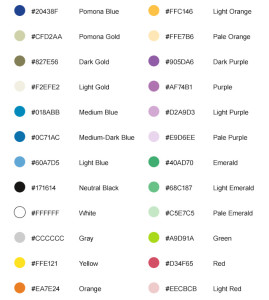 The site needed to evoke the heritage of the school while looking forward. This I brought out in the typographic combination of Galliard (their existing brand serif) and Futura (a familiar but futuristic sans). Galliard's pronounced thick-thin strokes and angled serifs evoke very clearly the behavior of traditional calligraphic pens, harking back to a time when books were hand-written by scribes – a perfect representation of Pomona's high standards and academic excellence. Futura has been used on high-design Bauhaus style work since its creation, and with its precisely geometric proportions and pointy corners, it brings to mind both the precise detailing on a rocketship and the bold type on a modern art show poster – representing to the viewer that this school is producing the next break-out-of-the-box thinkers. It was important too to be clear that Pomona isn't RISD either. The focus needed to feel familiar and practical in its cutting edge qualities, rather than wild art-for-arts-sake or inappropriate.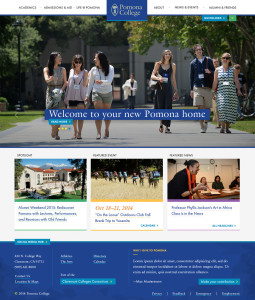 We presented two design style options to the client, one from me and one from the senior designer, and Pomona picked mine to move forward with. Working with the senior designers at NewCity, I extended the homepage to all the other page designs that would be needed. The students and staff – everyone on campus who saw the design as it went forward – were pretty unanimously favorable about it capturing the school's personality.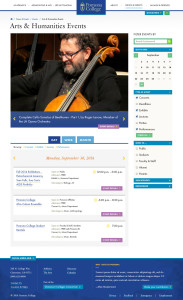 In the end, there were 16 different page designs, for desktop and mobile sizes, plus a stylesheet I put together in Photoshop with notes for the developers to help them make any guesses about design decisions they might run into. The result is a riot of color and overlapping elements that must have been quite an undertaking for the developers, but I couldn't be more pleased with the way it turned out. Despite the tough CSS challenges I threw them, it is nearly pixel-perfect to my comps, and is responsive across screen sizes.
Check it out in full life-size pixels at Pomona.edu!