My parents came up to visit a few weeks ago for my birthday, and we had a nice visit to the Frank Lloyd Wright home and studio in Oak Park.
It was really interesting to see the home he built for his family, especially from the point of view of a designer. He had quite a lot of fascinating ideas, but they only developed over time, as is clear in the home. Some parts are very familiar as part of his style, but they're pieced together in large part with older styles more in fashion at the time. I recognized the same sort of struggle for personal style, toying with fashions, and desire to experiment that I think a lot of designers work through. He was also a self-trained architect, which was sometimes noticeable in the building's structural issues.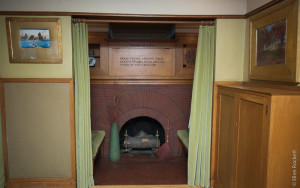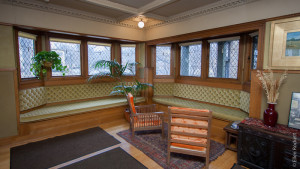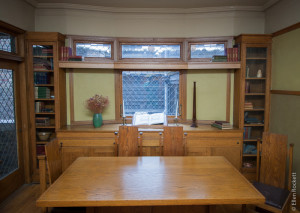 I really appreciated the way the rooms flow together, with common styles and color palettes extending from one room to the next. The custom consideration of how his family would be using the space leads to some wonderful details as well.
I really like the "Not So Big House" concept photographed so beautifully in Sarah Susanka's home design books. So it was quite educational to see one of the sources for her methodology, especially in moments like this privacy bath window, set at 90º to the room. As the tour guide pointed out, it does produce a scene like a still-life.
The master bedroom had a kind of weird mix of nominally Japanese and Native American styles, which was echoed other places in the house (Note the glass "kimono" door and the mural above). I guess it must have been fashionable at the time.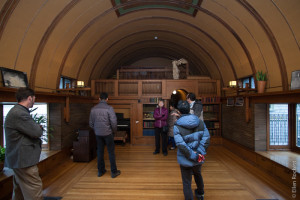 Especially in the children's playroom (built specially for them in many ways), there were great details. Some reminded me of the architecture of First Unitarian Church of Rochester, with its geometric proportional emphasis. Some of them struck me as a bit Myst-like – in particular the little spotlit shelf among the books.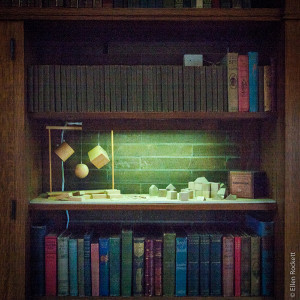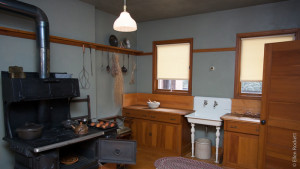 Kitchen, above, studio/drafting room below.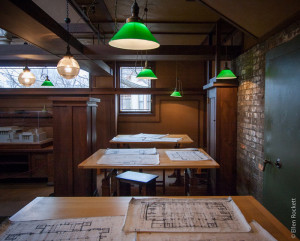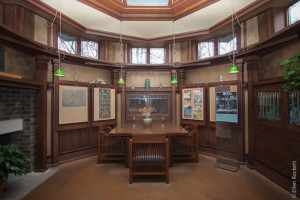 He was big on octagons, apparently. Also, in case you forgot, my lens is kind of absurdly wide-angle.
On a final note, I'm in love with this sculpture.